Despite Covid-19 epidemic, ground clearance and capital disbursement, the atmosphere of construction site remains bustling as government is speeding up key transport projects to solve traffic problems. Check out the top 3 key transport projects which are launched by the end of 2020.
1. New eastern bus station
After 2 years of construction and completed at the end of 2019, the new Eastern bus station is expected to officially come into operation in June this year, according to the Director of Department of Transport. With the total investment of VND 4 trillion, the 16-ha area located in District 9 includes spacious main station, parking spaces and complex facilities of kid's playground, shopping mall, food court, movie theater, etc.
As the largest bus station of the whole Vietnam with a capacity of 21,000 passengers plus 1200 buses a day, the new Eastern Bus Terminal is promisingly reducing congestion and accidents on a large scale.
2. The Thu Thiem 2 Brigde
Considered the new construction landmark of Ho Chi Minh city, the 1.4 km Thu Thiem 2 Bridge is a cable-stayed bridge with a 113 meter-high tower that arches toward Thu Thiem connecting District 1 and District 2 with the main span of 885.7 meters including 6 lanes for traffic and pedestrian walkways. After having missed several deadline due to a slow site clearance, Thu Thiem 2 Bridge is set to be finished by the end of Quarter 4 2020.
In April 2020, despite the lack of foreign engineering experts and advisers due to Covid-19, 3 over 17 concrete girders of the bridge were finished when the second cable-stay cable is being stretched.
3. An Suong Tunnel
One more highlighted project is An Suong Tunnel linking District 12 and Hoc Mon District. After the compensation disagreement of households is solved, this project is set to be back on track and completed by May 2020. With the life span of 100 years resisting 7-richter-degree earthquakes, the tunnel is expected to ease the crazy traffic jams at intersections and accident hot spots.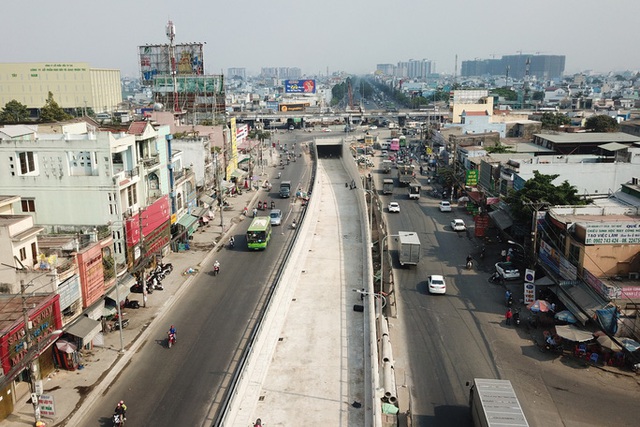 This is such a good sign of better transportation for both locals and expats who currently work and live in Ho Chi Minh city. Stay tuned and ge ready for a brighter scenario of Ho Chi Minh city this year!